The day job has been overwhelming for the past six months, having to work extra hours and leaving little time for much else. Also, dealing with some writing events that really shattered my confidence (still climbing out of that well). Had two sick kitties this month. Murphy's treatment for thyroid cancer is still wobbling between dosages, trying to get the right strength, but he had more claw issues this month, requiring an office visit. And Denali had to have five teeth removed, antibiotics, and a stay at the vets after he stopped eating. We were relieved the issue wasn't mouth tumors (which are usually cancerous). He's home though and eating again. And today is Murph's 15th birthday.
I sold my short story, One Last Round at Cozy's Tavern to Fiction River: Tavern Tales. The volume should appear in late 2017/early 2018. Also, I will have a new story available in a May short story bundle that the talented and amazing Jamie Ferguson is curating. And I may have other new stories appearing in bundles this year, so stay tuned.
In February, I am the guest author for volume 11 of the Uncollected Anthology series. On February 1st, look for my short story, Jar of Souls in Uncollected Anthology: Bewitching Love. Here is a list of the stories in the volume, from six stellar writers whose work I greatly admire. I am thrilled to share a table of contents with these talented women.
Guest Author: Jar of Souls by Lisa Silverthorne
Jar of Souls: Finding an unconscious man on the steps of her magical perfume shop is just the beginning of Seattle sorceress Avery Starling's troubles. She's drawn to Braxtan Rhodes, a handsome and intriguing young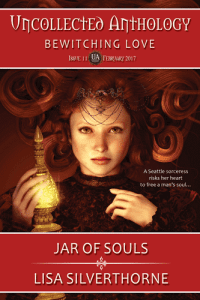 man who reeks of a strange dark magic that is slowly killing him. Pushing her healing air magic to its limits, Avery puts her heart on the line to battle a powerful Fey queen for Braxtan's soul.
Available February 1, 2017 from these retailers:
Kobo | Amazon | Smashwords | Barnes & Noble
Read about Avery's older sister, Orriana Starling in Chocolate Alchemy. Magical chocolates, corporate takeovers, & stolen hearts in Seattle
Amazon|Barnes&Noble|Kobo|Smashwords